When Should You
Clean

or

Replace a DPF?
Since 2007 diesel engines for commercial trucks have had diesel emissions systems installed that regulate how much harmful material comes out of the exhaust. The diesel particulate filter is one of the main components of this aftertreatment system.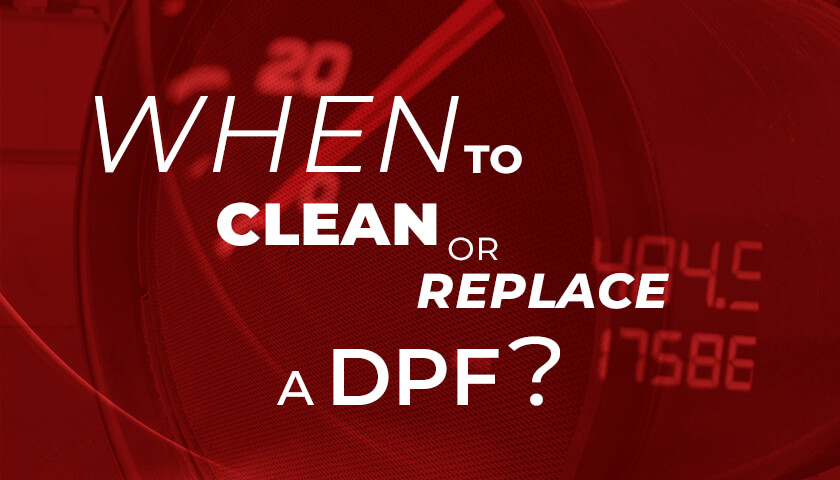 Vehicle owners often ask when they should just clean their diesel particulate filter (also known as a DPF) and when they should replace it. 
When Should You Clean Your DPF?
The DPF is designed to trap soot and ash and store it instead of allowing them to be released into the atmosphere. There are both passive and active regeneration processes engineered into the system to oxidize the soot converting it to ash and this allows the diesel particulate filter to operate much longer.  
Eventually, the DPF needs to be removed to be cleaned. On average we recommend that this is done every 75,000 miles (120,000 kilometers) or once a year, whichever comes first.  We know this is much sooner than the OEM recommends but being proactive will allow you to control when the vehicle is down for DPF maintenance, catch upcoming engine issues quicker, and prolong the life of your DPF. 
There is one exception though that should be mentioned. The above figures apply to the average commercial truck that operates at highway speeds towing full loads. If a vehicle primarily operates in stop-and-go heavy traffic, or if it operates in vocations that do not involve towing trailers with full loads then this interval may need to be much more frequent.
The main reason that the DPF needs to be cleaned regularly is that the ash can become so hardened that it is no longer serviceable, and if ignored will need to be replaced which is on average 10 times more expensive than getting the diesel particulate filter cleaned.
Should You Try and Clean Your DPF Yourself?
The short answer is NO.
We recommend that you use a DPF cleaning facility that has professionally trained staff with the proper equipment and disposal methods to clean your diesel particulate filter.
At Redline Emissions Products, we sell DPF cleaning equipment and there are two kinds of cleaning processes that we recommend.
Thermal (Traditional Bake & Blow)
This process uses a thermal event to oxidize the soot then air to blow out the stored ash. A proper machine will allow the cleaner to choose the filter material that the diesel particulate filter is made of which can include silicon carbide, cordierite, metal mesh, or other materials depending on who manufactured it and what application it is for. Then use the safest setting to ensure the filter is not damaged in the process.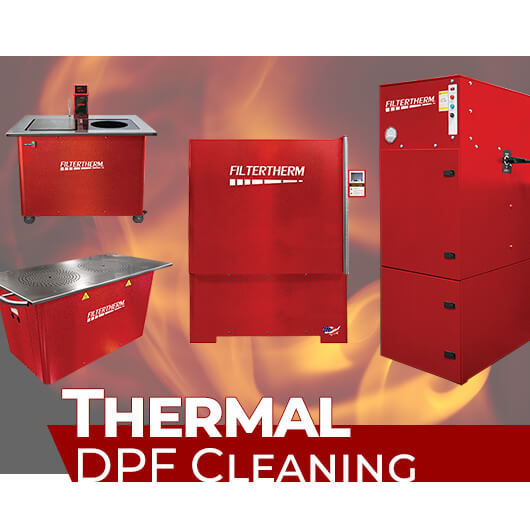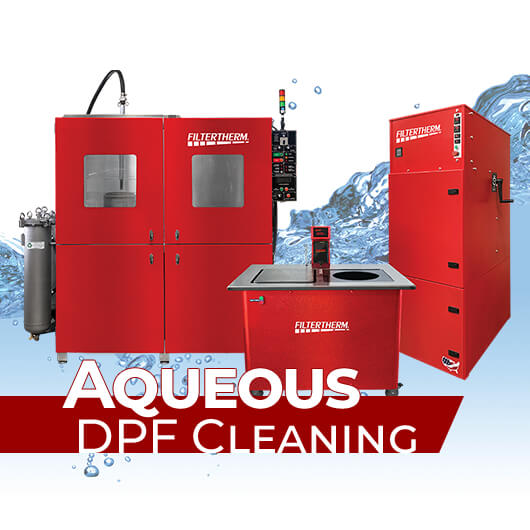 Aqueous
This is a newer automated process that uses a surfactant to surround the ash particles to make it easy for water to wash the soot and ash out of the substrate of the DPF.
The Filtertherm Aqueous DPF cleaning machine uses a patented x/y system to make sure every inch of the substrate is properly cleaned. It uses a self-contained cleaning area, no pressure washing diesel particulate filters like some people have tried and failed in the past.
The DPF is then dried in a drying cabinet. This equipment and process will allow you to clean and dry a DPF in under 2 hours, allowing you to reinstall the DPF onto a vehicle. Installing a dry DPF onto a vehicle is critical in preventing damage to the system and components.

When Should You Replace Your DPF?
If the DPF is hardened with ash and soot to the point that it cannot be cleaned it needs to be replaced. But this isn't the only reason that diesel particulate filters need to be replaced. DPFs may also be damaged from high heat, also known as a thermal event. Once the DPF is cracked it should be immediately replaced.
Buying a replacement DPF is not cheap. They can run between $2,000 (sometimes less when on sale) to $10,000 or more depending on the truck and engine that the diesel particulate filter is designed for. The expensive part of making a DPF is sourcing the precious metals that are used to coat the filter. Catalyzed DPF filters are much more expensive to manufacture than non-catalyzed filters.

The Proper Procedure for Disposing of DPFs
If you are a distributor of aftertreatment parts you can collect used diesel particulate filters from your customers. By offering a recycling program you can provide a valuable service because spent DPFs are potentially hazardous and should not be thrown away in the landfill. 
Instead, we recommend contacting Red Fox Resources and asking for a Fox Box. When it is full, they will buy the spent DPFs, and DOCs from you and this helps keep them out of the landfills and it adds to your profit margin.  
A Gift from REP

 
At Redline Emissions Products, we are focused on providing our distributors with high-quality aftertreatment parts and the best information and training on aftertreatment in the industry.
Thanks for reading this article. We have a gift for you that will help you be more successful in selling aftertreatment parts.
4 Major Things You Probably Don't Know About Diesel Emissions Systems but Should.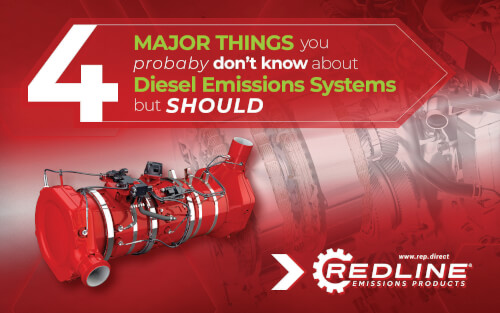 Become a Parts Distributor Today
Redline Emissions Products make diesel emissions systems easy with an extensive offering of readily available high-quality parts, packaged to protect against damage and loss, and backed up with training and expert support. 
If you would like to become a parts distributor and grow your business, contact us today!
Diesel Emissions Systems Made Easy

 
With Redline Emissions Products®, diesel parts distributors can add to their product line, increase sales, and solve a huge pain point to make diesel emissions systems easy for their customers.
Curious about what's involved with supplying diesel emissions systems and replacement parts? Reach out to  Wayne Cochrane, National Sales Manager for REP to find out more or call 888-295-4670.