20 Ways REP Makes Diesel Emissions Systems Easy
Redline Emissions Products has been a trusted name in the heavy-duty truck industry since 2014. We specialize in parts and DPF cleaning equipment for diesel emissions systems. We offer a wide range of almost 500 aftertreatment part numbers including DPFs, DOCs, clamps, gaskets, sensors, and weld bungs. Our primary focus is to make servicing diesel emissions systems as easy as possible for our many customers and distributors. Here's how we do it: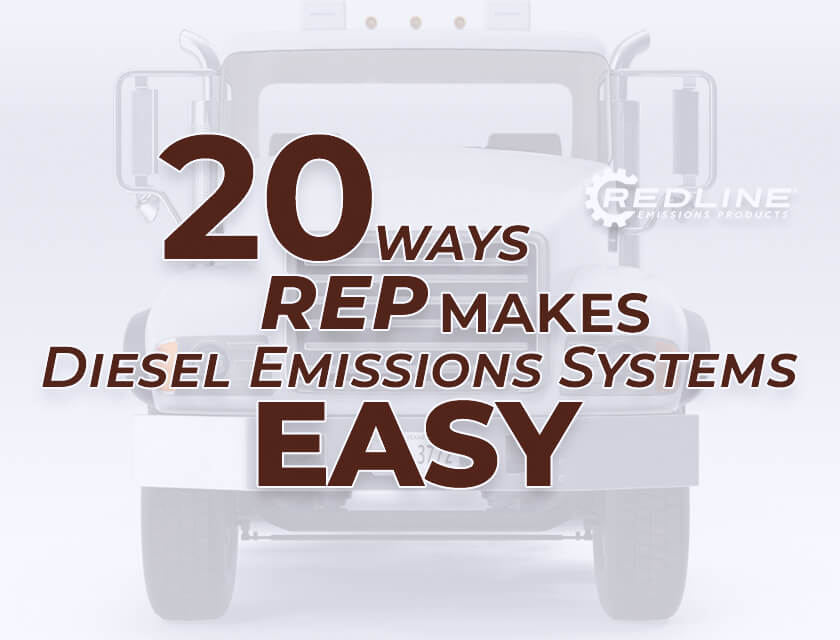 Stringent Quality Control: We leave no room for compromises when it comes to quality. Our rigorous and comprehensive quality control process ensures that every component we provide meets or exceeds the original equipment manufacturers' (OEM) standards. Our DPFs even go through flow testing and are marked with a born-on weight, ensuring they will perform when installed and provide a benchmark for future cleanings.
Perfect Fit and Function: We prioritize seamless integration of our parts into your system for optimal performance. Each REP part is designed and engineered to match your system's specifications, ensuring smooth operation, and maximizing longevity.

Surpassing OEM Standards: We compare our products against OEM parts to guarantee excellence. By surpassing OEM standards (where possible), we provide the highest caliber products for each of our customers.
Building Trust: We understand the importance of trust and confidence in our parts distributors. That's why we are committed to delivering exceptional parts and continuously improving our processes. We want our distributors to promote and distribute our products with pride and confidence.
EXTENSIVE PRODUCT RANGE – SELECTION
Wide Variety of SKUs: We take pride in offering one of the most extensive product ranges in the industry, with over 500 Stock Keeping Units (SKUs) available. From light to heavy-duty Diesel Particulate Filters (DPFs) and Diesel Oxidation Catalysts (DOCs). REP also offers one of the widest selections of SKUs for aftertreatment clamps, gaskets, sensors, weld bungs, and more. We have the parts you need to keep your diesel equipment running smoothly.
One-Stop Shopping: We believe in simplifying your procurement process. By offering a comprehensive range of products, we make it easy for you to find everything you need under one roof. Say goodbye to the hassle of searching for multiple suppliers.

Efficient Ordering: With just one call to REP, you gain access to a wide array of products. Our knowledgeable team is ready to assist you in finding the right parts, answering your questions, and ensuring a smooth experience.
Optimizing Resources: By consolidating your parts sourcing with us, you can free up valuable resources within your organization. Your parts people can focus on assisting customers, improving efficiency, and strategic initiatives while we take care of your aftertreatment part needs.
LARGE INVENTORY & FAST DELIVERY
Extensive Inventory: We maintain one of the largest inventories in North America to promptly fulfill your orders. Our diverse range of readily available parts minimizes processing and shipping time, getting you back on the road swiftly.
Strategic Warehouse Locations: Our warehouses on the west coast and Louisville, Kentucky, bring our products even closer to our valued parts distributors. By reducing the distance between our warehouses and distribution network, we optimize transit times and expedite the delivery process.

Enhancing Truck Uptime: We understand the importance of minimizing repair time. With quick access to the quality components they need, your technicians can perform repairs efficiently, reducing downtime for your customers.
Minimizing Downtime: Our fast and efficient delivery services aim to minimize repair time. We expedite the delivery process to ensure you receive the required parts promptly, keeping your customers' trucks operational and their businesses running smoothly. This works in combination with the quality of the parts to further reduce downtime.
QUALITY PACKAGING with OEM PART NUMBERS
Secure Packaging: Each REP product is individually packaged to protect it during transit. Our meticulous approach minimizes the risk of damage, ensuring you receive parts in the best possible condition. Results: no damaged gaskets, no missing hardware
Clear Identification: Our packaging includes comprehensive OEM cross information, making it easier for you to identify the correct part accurately. We aim to enhance the efficiency of your operations. This also assists with inventory, no lost or misplaced parts.

Damage Prevention: We take precautions to safeguard the integrity of our products during transportation. Our packaging materials and techniques minimize the chances of parts being compromised, ensuring you receive products ready to be installed. Most parts are packaged in heavy corrugated boxes, allowing for quick and safe transport.
Building Confidence: Our packaging includes the OEM part number, instilling confidence in you and your customers. This attention to detail eliminates doubts about compatibility and authenticity, strengthening your reputation as a reliable supplier.
Comprehensive Training: Our training programs cover all aspects of the emission business, equipping your sales staff and technicians with the knowledge and skills they need to excel. From understanding aftertreatment systems to mastering industry regulations, we ensure your team is up to speed and confident in their abilities.
Understanding Fleets' Issues: We empower your technicians and salespeople to better understand the challenges faced by fleets. By gaining insight into fleet operators' pain points, your technicians and salespeople can effectively diagnose problems, enhancing customer satisfaction and trust.

Distributor Support: As a REP distributor, you can benefit from a suggested retail and fleet pricing strategy, marketing support, banners, comprehensive training programs, a dedicated tech support line, and a dealer welcome package. These resources and support systems help you maximize your business potential in the competitive emission systems market.
Continuous Learning: Our commitment to our clients extends beyond initial training programs. We provide ongoing support and resources to help your technicians adapt to evolving industry trends. By staying up to date, they can confidently navigate the complex emission systems landscape and provide the best solutions to your customers.
THERE YOU HAVE IT – 20 WAYS REP MAKES IT EASIER FOR YOU!
All this is why Redline Emissions Products is the industry leader in making diesel emissions systems easier for you. With our expertise and dedication to excellence in partnership with your drive and commitment to service, we can provide an amazing experience for your customers and grow your parts business.
It's all about bringing the QUALITY, SELECTION, INVENTORY/FAST DELIVERY, SUPERIOR PACKAGING, & TRAINING from REP.
For inquiries or more information on our aftertreatment parts, DFP Cleaning equipment, or how to become an authorized REP distributor, feel free to contact us. We are here to assist you and provide the support you need every step of the way.