Soaring Prices

Means Truck Maintenance is

More

Essential
The heavy-duty truck market has been upended due to the COVID-19 pandemic. Both new and used truck prices have been affected and continue to soar to record highs. Therefore, truck maintenance of existing equipment is now more important than ever before.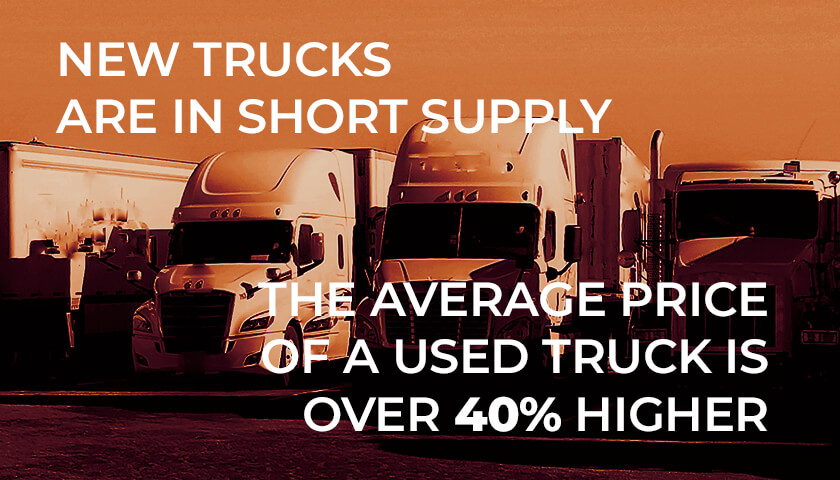 Due to the pandemic and supply chain issues, new trucks are in short supply.
The production of new heavy-duty trucks dropped in 2021, and this trend continues in 2022. Struggles with sourcing raw materials, interruptions at manufacturing plants, and lockdowns have caused truck manufacturers to produce far fewer new trucks than the industry demanded. Fleets have been forced to look to the used truck market instead. 
This has caused the average price of a used truck to skyrocket.
In late 2021 into 2022, the average price of a used truck soared by over 40%. This has a huge impact, especially on smaller fleets with limited budgets. Fleets that buy used trucks at these record-high prices worry that when it comes time to sell these trucks they will have to do so at a loss.  
As long as demand continues to outpace supply, these prices will hold. But eventually, they will come back down and so buying used trucks that need a lot of repairs and maintenance instead of buying new trucks under warranty that is going to rapidly depreciate doesn't make a lot of financial sense for many fleets. 
Fleets are struggling to keep up with demand.
Throughout the pandemic, retail and online store purchases have increased, perplexing experts. This paradox can be attributed to North Americans spending more time at home and having more cash in their pockets thanks to stimulus checks and advanced child tax credits. 
Thanks to this increased flow of consumer goods, fleets have more opportunities to make profits by moving freight. Unfortunately, their ability to grow their fleet, either with new or used trucks, is at a standstill due to low inventory and high prices. The ongoing driver shortage is a factor as well.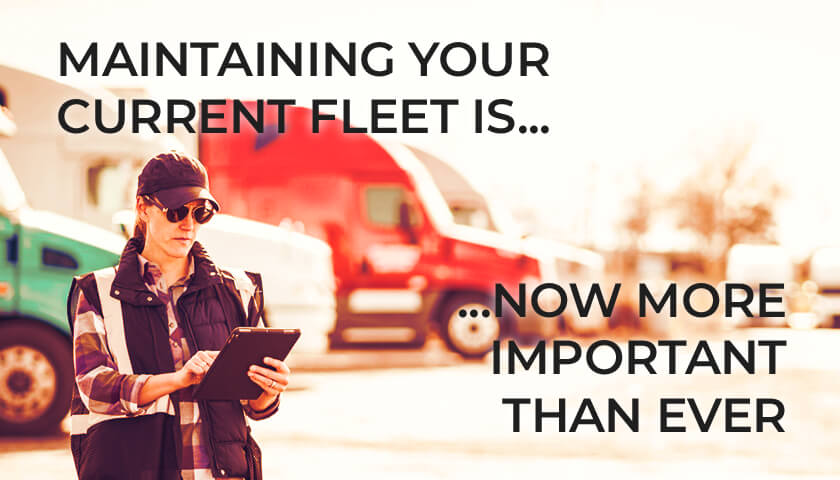 M

aintaining your

current fleet is

more important now than ever

.
Regardless of whether a fleet buys additional used trucks or just decides to postpone buying new trucks until things stabilize, keeping existing equipment on the road and avoiding unscheduled downtime is critical to keeping up with the demand for transportation services.  
The need for a comprehensive truck maintenance program, utilizing predictive maintenance technology, and investing in high-quality heavy-duty parts that lower the total cost of operation and maximize uptime has never been more important. 
If you do buy a used truck, cleaning the DPF is the first thing you should do.
When you purchase a used truck, you never know if the previous owner kept up with their diesel emissions systems maintenance. So before using the truck, make sure to get the aftertreatment system inspected and get a professional DPF cleaning. This will also help you identify if a new DPF, DOC, and sensors are needed. 
Regular DPF cleaning is one of the best ways to maintain your truck's engine and aftertreatment system.
Keeping up with regular DPF cleanings will extend the life of your aftertreatment system is considered best practice for proactive truck maintenance. It'll also help you avoid issues with a clogged DPF, broken sensors, and having the truck put into a derate limp mode. Additionally, analyzing the DPF can alert you to upstream issues that have not yet been diagnosed but will lead to unscheduled downtime in the future if not addressed.  
Aftertreatment parts like sensors have especially been hard to get.
For the same reasons as new trucks, parts have also been in short supply these days. Sensors, in particular, have many components including the casing, catalysts, ceramic, glass, precious metals, electrodes, wiring, and more depending on the sensor type. If any of these components experience supply chain disruption, the sensor cannot be completed.  
We've seen difficulties with sourcing raw materials, overseas transport, delays from port congestion, and of course interruptions from COVID-related surges and lockdowns which have severely reduced the supply of these replacement parts. Therefore, it is important to identify sensors that will soon need to be replaced but have not yet failed, so that you can order the replacements and hopefully they will arrive before the truck is broken down from a faulty sensor.   
Make your truck maintenance budget go further by purchasing high-quality aftermarket replacement parts.
When replacing a part, some fleets go straight to the original manufacturer for replacements. Some other fleets look for the cheapest possible aftermarket replacements. The best bang for your buck lies in getting high-quality aftermarket replacements. You'll still save money over OEM prices while making sure the parts fit as well or better than OEM and will last just as long. 
Additionally, the cost of having a truck back in the shop only a few days or weeks after a repair has been done because the replacement parts installed were poor quality and ultimately failed is far greater than investing in high-quality aftermarket replacement parts that are manufactured to OEM specifications.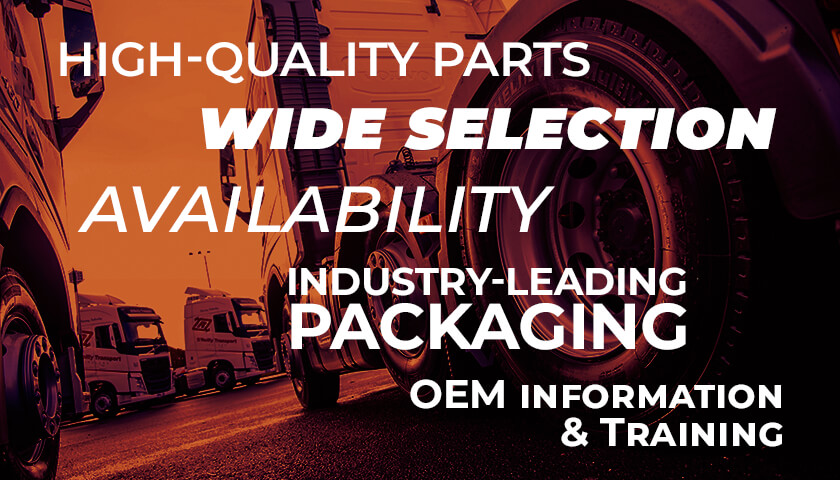 Getting the right part, the first time ensures that your trucks can get back in service quicker.
Diagnosing and identifying aftertreatment replacement parts for your diesel emissions system can be difficult. At Redline Emissions Products we have an extensive network of distributors who provide fleets with diagnostic services and our high-quality replacement parts.
We make diesel emissions systems easy for our distributors, service centers, and the fleets who are operating used commercial trucks. It starts with high-quality parts, a wide selection, and availability, but extends beyond that with industry-leading packaging that protects the products and provides OEM cross-reference information and training programs to help the trucking industry keep their commercial trucks on the road longer.