Diesel Emissions Systems

Made Easy

for

Parts Distributors
You don't have to talk to operators of commercial trucks with diesel engines about maintenance and repairs for very long before the diesel emission system becomes the focal point of the conversation. The last 15-years have been difficult and expensive. The last thing anyone would say is that these emissions systems are easy.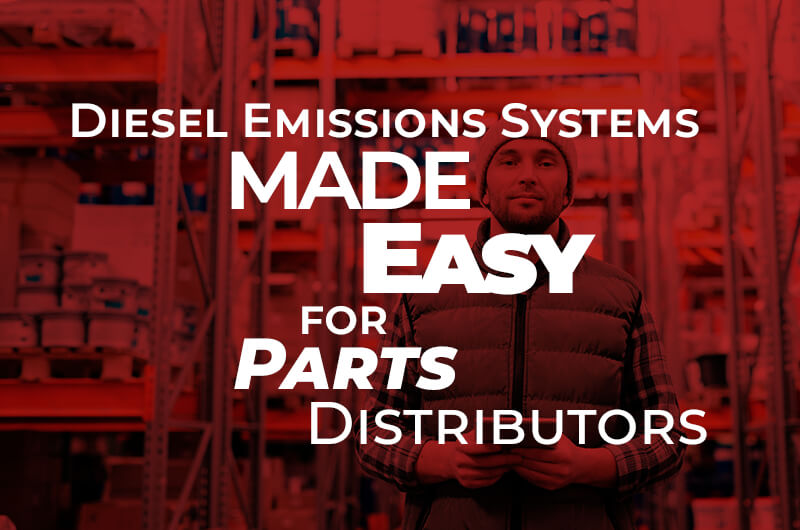 Many heavy-duty parts distributors have been hesitant to sell aftertreatment parts. Once they do bring on a product line, they sometimes aren't successful selling the parts. In the end fleets and owner-operators end up returning parts to the dealer but that is often a very expensive option.
Diesel Emissions Systems Made Easy – How?
Redline Emissions Products (REP) is an all-makes aftertreatment brand backed by Diesel Emissions Service who has been in the heavy-duty truck industry since 1978 and has specialized in diesel emissions systems since 2006. Over the years the line has grown from a few gaskets and clamps to now almost 500 SKUs that include DOCs, DPFs, sensors, weld bugs, and charge air coolers.
We even have
DPF cleaning equipment
!
Our product line has grown to include DOCs, DPFs, sensors, weld bungs, and more.
But just supplying parts distributors with parts is not enough.
To help parts distributors succeed, 
servicing 
the diesel emissions system 
must
 be as easy as possible.

Quality cannot be taken for granted. Each year we spend countless hours and thousands of dollars to make certain that when a part is installed, it will fit and function as well as, or better than, the OEM part.  
It's important because today's emission systems are engineered to tight tolerances. A loose clamp, a leaky gasket, or a defective sensor can cause an engine to go into limp mode, often leading to costly repairs, missed deliveries, and unscheduled downtime. 
Parts distributors can be confident in our quality, from v-band clamps to diesel particulate filters.
Parts distributors can have complete confidence in the quality of parts supplied by REP, from the smallest weld bungs & v-band clamps to diesel particulate filters of all makes.

We know many companies will offer the popular top sellers; the top 20% of aftertreatment parts. But this causes a problem for the end-user. When their truck is down, they need the part immediately to get back on the road and not every truck relies only on those popular parts to stay in service. 
REP is your one-stop aftertreatment parts supplier.
REP is committed to offering the largest number of SKUs in the industry. We want to offer as close to one-stop shopping as possible.  We strive to be the supplier who can meet all your needs so that you are not having to call multiple vendors to complete a job. If your parts people can source all their aftertreatment parts with one call, they can get your customers back on the road faster and be freed up to assist other customers. 
Having a wide range of products but failing to stock sufficient volume is counterproductive, which is why we have one of the largest inventories in North America and in multiple warehouses to make sure our customers can get parts quickly. In 2021, we are expanding our footprint to bring our products even closer to our parts distributors.  
Truck uptime is as important as lowering cost-per-mile, so having a wide range of affordable quality parts nearby can help you reduce your customers' repair time. This can put money in your pocket as well as in your customers'. A true win-win.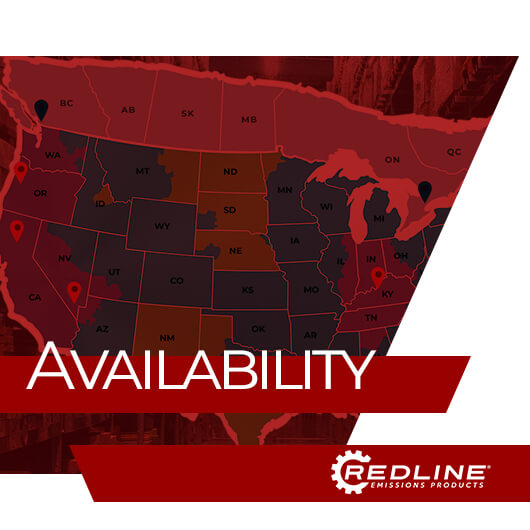 This is an area no one thinks about but it causes many problems for parts distributors if not handled properly. All our products are packaged individually, then labeled with the OEM cross information.
Protective packaging with OEM part numbers.
There's nothing worse than selling a part and then going out back and seeing it was damaged, or worse, not finding it at all. Our quality packaging protects the product, no damaged parts, no missing hardware, and no misplaced inventory. Imagine being able to hand your customer a box that also lists the OEM part number your customer asked for, giving everyone complete confidence that this is the correct part.

To best assist our customers, we offer various types of training. Many parts distributors today are new to the emission business. They know heavy-duty parts, but not the emission systems. We assist these clients in getting up to speed. We're able to tailor training to fit their needs. 
There is a learning curve when you start selling aftertreatment parts and servicing diesel emissions systems. With our training, your parts technicians will be able to better serve the fleets and owner-operators because they will understand the fleets' issues and walk them through to a solution. 
Become a Parts Distributor Today
Redline Emissions Products make diesel emissions systems easy with an extensive offering of readily available high-quality parts, packaged to protect against damage and loss, and backed up with training and expert support. 
Diesel Emissions Systems Made Easy

 
With Redline Emissions Products®, diesel parts distributors can add to their product line, increase sales, and solve a huge pain point to make diesel emissions systems easy for their customers.
Curious about what's involved with supplying diesel emissions systems and replacement parts? Reach out to  Wayne Cochrane, National Sales Manager for REP to find out more or call 888-295-4670.