Aftermarket DPFs – A Unique Focus on Quality
"Quality is never an accident; it is always the result of high intention, sincere effort, intelligent direction and skillful execution; it represents the wise choice of many alternatives." ~William A. Foster
Attention to Detail
As an aftermarket brand, Redline Emissions Products® brings you a focused quality and attention to detail that outshines many OEMs. There's a distinct value you can see – from the packaging to the quality control process and beyond. We truly offer you OE quality parts without the OE price tag. For many fleets looking to drive down costs of maintenance and replacement DPFs, the REP brand stands tall as an obvious choice.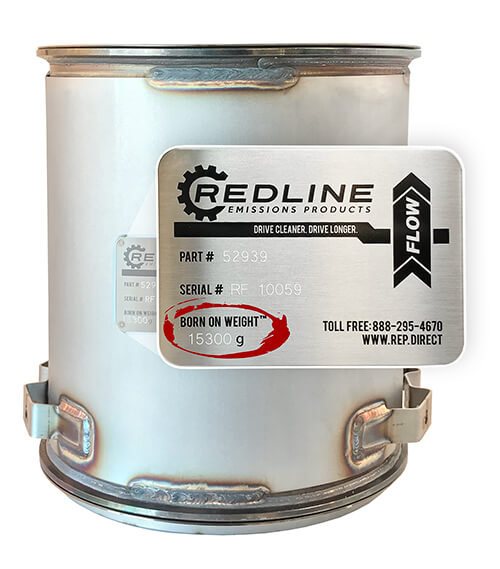 The "Born on Weight™" for MD/HD DPFs
Each and every medium and heavy duty DPF we box goes through a multi-step, hand inspection process to make certain it will fit and perform the same as the original. This inspection includes a proprietary process where we weigh and flow test each unit. Yes, each unit!  The "Born On Weight™" is not a generic number per category, but an actual individual weight of each product, which is then stamped on the DPF ID tag, and the flow information is compatible with both the Filtertherm® and FSX equipment readings and available by serial number on our REP website.
Top-Tier Packaging
Redline Emissions Products® brings its A-game with a true all-makes line with MSRP pricing. Unlike other brands who sell their gaskets in bulk shrink-wrapped bundles, our products are packaged for professional display in showrooms. Why buy a dozen when you only need two? All parts are sold individually in top-tier quality packaging that protects against damage; all packages are labelled with OEM manufacturer name and all related cross reference numbers. This cuts down on lost or damaged inventory and offers your customers peace of mind that they received the part requested. Features include:
High-end packaging to compliment showrooms
Protects against damage – in storage and transit
Each part easily identified, no loose parts
Transparent clamshells for easy identification
Less shrinkage due to lost parts or components
Parts sold individually / some kits
Boxes are corrugated, 4 tabbed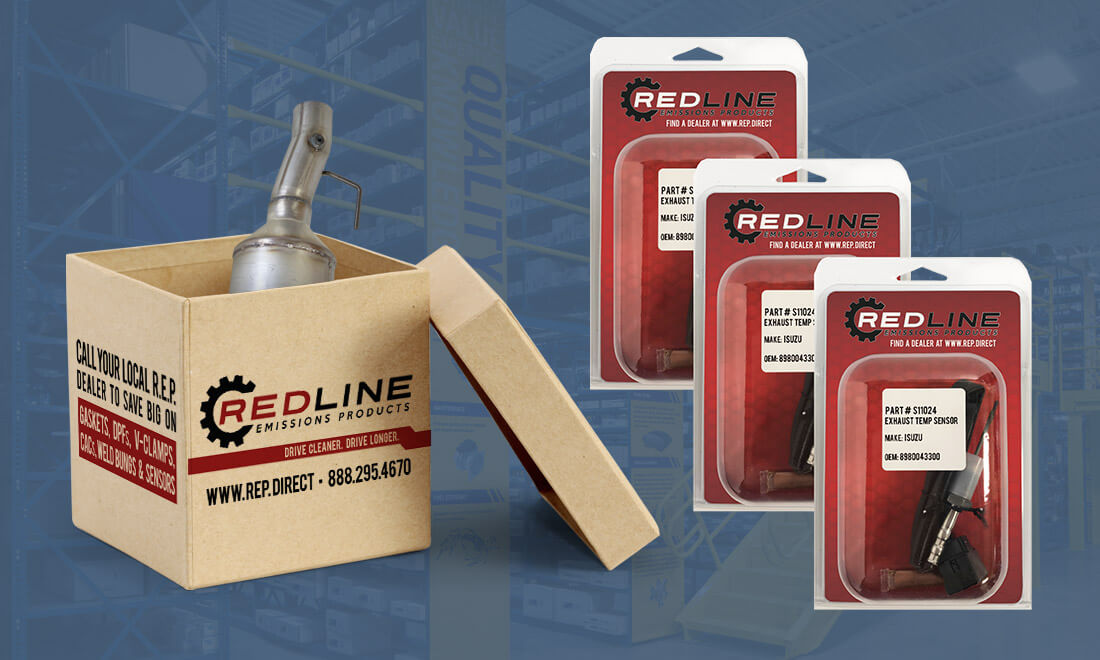 Product Labeling 
Our product labeling takes the guess work out of emissions system replacement parts. All REP products are OEM quality with professional packaging and labeling to quickly identify each part. (Additional OE crosses available on our REP website.
Each label has a:
Bar code
REP Part Number
OEM name for quick verification of the part
OEM cross numbers to confirm part asked for is part received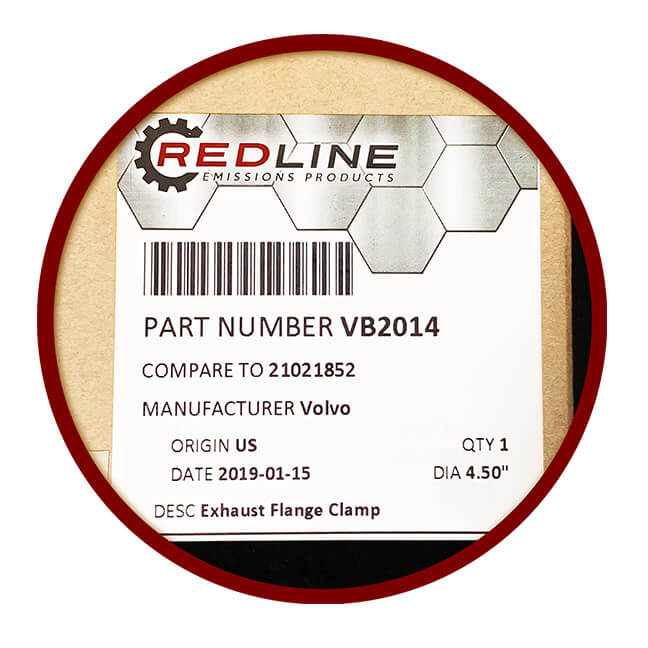 Marketing & Sales Support 
Redline Emissions Products® offers dealers a full library of product brochures, booklets and sales support materials, as well as our online OEM cross reference database. We offer our ROI calculator – to help shops determine how quickly adding DPF cleaning services with our Filtertherm® line of DPF cleaning equipment can increase profits. We also offer our library of images and data for your online store. Sales support is through our Regional Sales Manager – Wayne Cochrane 888-295-4670 – and Training on DPF cleaning, equipment usage and general DPF knowledge is available upon request.
Quality Tech Support 
The Redline Emissions Products® brand is backed by decades of diesel shop experience, plus almost 15 years in emissions systems go into the development of our brand and our products. We offer FREE Tech Support to ANYONE – not just our customers – to assist in troubleshooting your DPF system. Head Tech Support Guru Steve Stratton aka "JR" has 15 years of experience in a high-volume diesel shop, diagnosing and training techs how to effectively diagnose, repair, service and maintain diesel engines with aftermarket and OEM DPF systems. His area of expertise has been studying the failure characteristics of diesel engines and of diesel particulate filters (DPFs), as well as learning how the engine and filter systems best operate. You can call into or email our Tech Support Hotline – 888-834-0500 | support@rep.direct.